The Steel Woods Cut to the Core at The Hamilton With The Trongone Band
The Steel Woods brought their powerful brand of southern rock to The Hamilton last Wednesday, March 28. The Nashville-based quartet impressed with a headlining set that put both their songwriting and musicianship on display. Led by co-founders Wes Bayliss (guitar, vocals, harmonica) and Jason 'Rowdy' Cope (guitar), the band featured a number of songs off their 2017 debut, Straw In The Wind.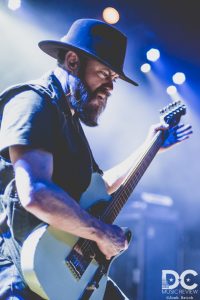 The duo met in Nashville while working in different projects and began writing songs that evoke the sounds ranging from traditional country to boot-stomping southern rock and roll. The band includes Jay Tooke (drums, vocals) and Johnny Stanton (bass, vocals), a formidable rhythm section that completes the band's full sound. Bayliss' vocals shone throughout the night, at times supported by Took and Stanton creating beautiful harmonies. Cope, previously a member of Jamey Johnson's band, impressed with his guitar chops and thick, clean tone on his Fender Telecaster.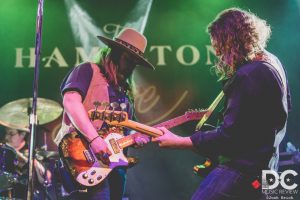 After a swampy take on The Allman Brothers Band's "Whipping Post," the band launched into a particularly meaty portion of the set that captivated the audience. "Straw In The Wind" was especially gripping and featured both Cope and Bayliss on electric guitar. Bayliss let loose on vocals and it was clear the band was feeling it, unleashing their haunting and edgy sound. "Della Jane's Heart" followed, another gem written by Cope and Bayliss. After a forcible and bluesy "I Need You," Tooke laid down the opening beat to Black Sabbath's "Hole In The Sky." The Steel Wood's impressive rendition featured the song's hard-hitting riff mixed with the Bayliss' southern, soul-wrenching vocals. The band closed with "Axe" and "Rain" and it was apparent the crowd wanted more. They will have to wait for the rocking quartet to return to The District, and DC Music Review certainly hopes that happens sooner rather than later.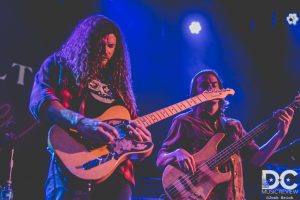 The Trongone Band, the always impressive quartet from Virginia, returned to The Hamilton stage to open the evening. The Richmond natives had just come off a lengthy tour and were happy to be back in DC. It was clear early that this billing was well-suited as The Trongone band plays music that ranges in genre from country, americana, folk and rock. At heart, they are a rock and roll band and they make sure their audience knows it. The band includes brothers Andrew (guitar, vocals) and Johnny (drums) Trongone, Ben 'Wolf' White (keys, vocals) and Zach Hudgins (bass). The quartet displayed their songwriting pedigree as well as impressive musicianship. The set focused on originals from their 2017 release, Keys to the House, and featured crisp vocal harmonies and fierce guitar solos from Andrew Trongone. The band is set to play several shows in the southeast with The Vagabonds on their way to the Sweetwater 420 Festival in Atlanta, GA.